History of Overhead Door Company™ (Part One)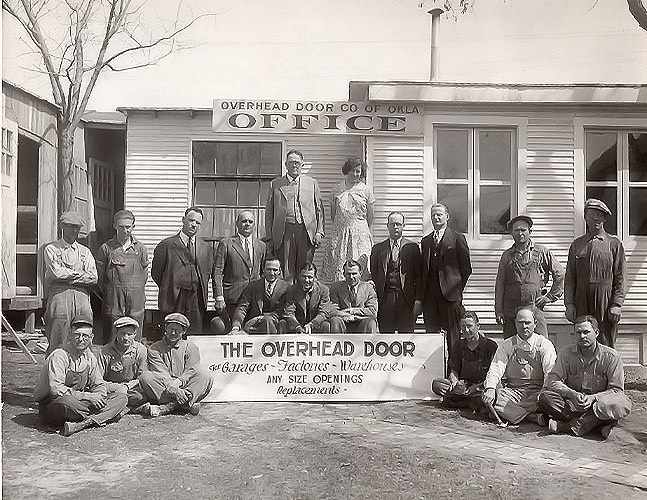 Overhead Door Company ™ – A History (Part One)
In 1896, Henry Ford developed the first automobile, and a couple decades later he began using the first assembly line to begin mass production. It wasn't long before consumers realized they would need a place to store and easily access these new vehicles. In 1921, C.G. Johnson began his journey to develop a garage door that could safety function and allow an automobile to maneuver through an opening. Thus, the up-ward acting, sectional garage door was invented, and changed the way Americans leave and enter their homes. Over 100 years later, The Overhead Door™ brand is still creating garage doors to keep you, your family, and your automobiles safe.
Where We Began
As car ownership became more prevalent, car owners realized they needed a building solely for the purpose of storing their vehicles. However, traditional barn and carriage house doors opened toward the outside. This method of opening proved to be problematic as the garage doors were heavy and could easily be blocked by snow or other fallen debris. These garage doors could also be unreliable, as hinges would corrode and break down over time. The garage doors would need a space large enough to keep any possible obstructions clear and secure.
C.G. Johnson took these potential issues and altered the way people would store their cars forever by inventing a garage door that would rise to become parallel with the roof of the garage. These garage doors were made using hinged panels that were flexible and made the garage door bendable as it rose. These garage doors became a vast improvement from the prior carriage house garage doors.
Johnson partnered with Owen Dautrick in 1921 to start the Dautrick-Johnson Manufacturing Company that would later evolve into Overhead Door Corporation. Together, these innovators began producing the first "upward-lifting garage door". Johnson worked with attorney Forest Mckee from Hartford City, Indiana, to begin the company's first plant in Detroit. This plant was 1,000-sq.ft., and was capable of producing one door per day. After acquiring a patent for the automatic opener, C.G. Johnson and his wife spent the next few years touring the country with a miniature garage door mounted to the back of a Model T Ford truck to sign on potential garage door dealers. These were the first of the "red ribbon distributors", and were just the beginning of a legacy of trusted services passed down for over 100 years.
In 1923, while Johnson was stopped at an Indiana trade show, a local businessman was impressed by the garage door and offered him a factory site. In 1924, the factory moved to a new, 200,000 sq. ft. building in Hartford City, Indiana. This space allowed for the mass production of garage doors. Three years later, Herbert Cady Blodgett, who just invented the first electric garage door opener in Hartford City, Indiana, was recruited by Johnson. Together, they began producing the modern garage door system now known as Overhead Door Company of Hartford City.
At a time when cars were beginning to replace horses as the primary mode of transportation, Johnson and his inventive and progressive associates truly innovated. These men adapted to the rapidly changing times, and created a door that homeowners everywhere needed with the modern garage door and automated garage door opener. These inventions revolutionized the way people interacted with their homes and cars, growing into a successful business that has lasted for generations. While the company may have grown and changed through the years, one thing has remained the same: When you see the Red Ribbon, you know you're getting quality, service, and integrity.
Business Strategy
Johnson created a display on the back of a model T truck and went across the country advertising his operating garage door prototype. He would travel to car, home, and builder shows everywhere showcasing his display. Johnson was at a Detroit Auto Show when this eye-catching showroom on wheels began to garner attention, and earned him a flattering article in the Detroit Free Press. The article mentioned the 800 garage doors that had already been installed since the invention of Johnson's new product. Johnson found people embracing the convenience of modern technology.
Not only was Johnson selling garage doors to consumers and builders; he was also selling communities on the idea of building garage door factories around the country. As garages began to gain popularity, so too did the garage door. Eventually, the Hartford City's Chamber of Commerce began selling stock to build a garage door factory in May of 1923. By April of 1924, the Lewistown Chamber had raised enough funds to build a plant in Pennsylvania. As these cities continued to grow, both plants would come to employ hundreds of workers for decades to come. All of this growth and change stemming from one compelling sales pitch by C.G. Johnson. Next month we will look at how Overhead Door company grew and evolved from mid-century to present.
No matter what your garage door needs are, from replacing to servicing, if you are in the Milwaukee, Waukesha, Racine or the greater Southeastern Wisconsin area, contact us to set up your garage door appointment today.
---