How to Prepare Your Garage Door for the Winter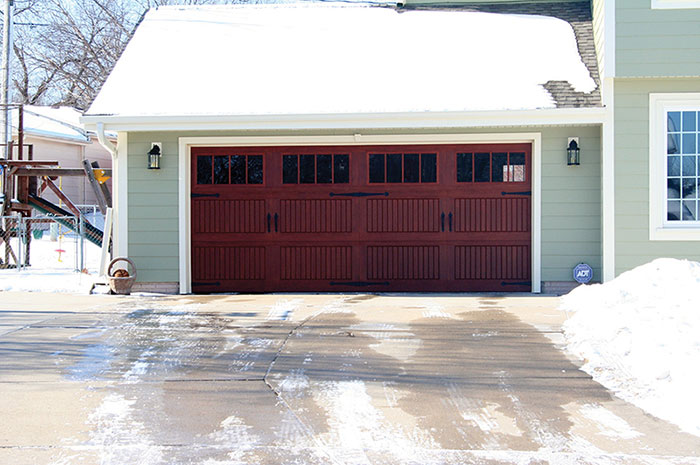 Wisconsin winters can be brutal and the outside of your home receives the brunt of it, which includes your garage door. Your garage door is designed to protect your car and other belongings from the elements. With a little bit of care and maintenance, you can rest assured that it should continue to work all winter long without leaving you stuck out in the cold.
The first step for preparing your door for winter is to wipe it down. There's a lot of dust, dirt and grime that can build up on your garage door and tracks that can cause issues and prevent the door from sliding easily. A quick wipe down with a general household cleaning product will help prevent rust and clogged hinges or rollers. Each of the moving parts on your garage door moves several times a day. Lubricating these parts can help prevent damage due to friction and also help protect them from the elements.
Another part to check on your door is the weather stripping on the bottom. Wiping this off can help keep it in good shape to prevent the cold and snow from coming in. Check it to ensure there are no cracks as these cracks can grow quickly from opening and closing daily in the cold temperatures. During the winter you should also be sure to keep it dry by removing all snow and ice from the area to prevent the rubber weather stripping from freezing to the ground.
It is nice, especially when it is cold and snowing, to be able to automatically open the garage door from the outside. Cold can cause batteries to drain faster during the winter, so you should regularly check the batteries for your remote control garage door openers. This includes the keypad on the side of your door as well as the remote in your car.
If you notice any issues with your garage door as you are preparing it for the cold winter months or while it is in operation, give us a call and one of our garage door technicians can do a more thorough inspection and maintenance. Our service area includes Kenosha, Milwaukee, Ozaukee, Racine, Walworth, Washington, Waukesha, and Lake Country.
---