Things You Should Know Before Buying a New Garage Door (Part 2)
When purchasing your new garage door, there is more to think about than just material, cost, and motor speed, as discussed in Things You Should Know Before Buying a New Garage Door (Part 1). There are many garage door accessories and upgrades that you may want to invest in as well. Garage accessories are often just as important as the garage door itself.
Stronger Garage Door Springs – Worth the Cost
Garage door springs help your garage door to run smoothly, as well as help your garage door to operate properly. Your garage door should raise easily and lower slowly. Most garage doors operate using torsion springs. Standard torsion springs are rated for about 10,000 cycles (open & closing of your garage door); this may sound like a lot, but when the average garage door is opened and closed six times a day, you will reach 10,000 cycles in under five years. Spending a few extra dollars when shopping for garage doors will buy you a spring rated for 20,000 cycles; that is twice the life cycle for just a few dollars more.
Look for These Features If You Want A Quiet Garage Door
If your garage is attached to your home, having a quiet garage door is very important. To minimize the noise caused by a garage door opening and closing, you will want to choose a door with nylon rollers (nylon rollers are quieter than metal ones) and polyurethane insulation. The garage door insulation will diminish vibrations that may normally be magnified by uninsulated steel.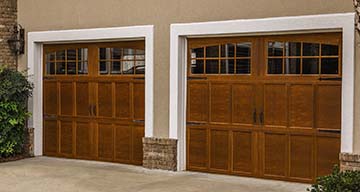 New Garage Door - New Opener
Our team at Overhead Door Company of Metro Milwaukee™ can install not only your garage door, but also your new garage door opener. Your opener will eventually fail, and you will want to replace it before that happens. A quieter opener, or one with more features, are just a few other reasons it may be time to replace your opener. However, replacing your garage door opener when you replace your door may save you money on labor, as you may be able to negotiate a package deal.
Choose the Correct Windows
Garage doors with the right windows offer lovely curb appeal and generally enhance the aesthetic of your garage. However, beyond adding style, windows can also offer much-needed light to the interior of your garage. Below are a few tips for choosing the best glass for your garage windows:
- Your glass style should match the windows of your house whenever possible
- Upgrade to insulated glass if your garage is heated
- Install glass in the top panel for extra privacy and security

Use Our Website When Choosing a Door Design
When shopping for a new garage door, you don't have to guess how a particular style or color of door will look on your house, we offer DoorView™ Visualizer, which allows you to upload an image of your garage and add a new garage door style to it. This allows you to choose a new garage door style and include any design features you may like, as well as pick windows, door colors, and even add hardware. This feature allows you to experiment with different styles until you find the one you like. You can then print out the specifications for an up-to-date price quote from our team to help you find the best garage door for your home.
Our team at Overhead Door Company of Metro Milwaukee™ offers free estimates to help you better understand the final cost of your new door, accessories, and installation may cost. Our garage door commercial and residential service area covers all of southern Wisconsin and beyond, including the counties of Columbia, Dane, Dodge, Green, Iowa, Jefferson, Kenosha, Lafayette, Milwaukee, Ozaukee, Racine, Rock, Sauk, Sheboygan, Walworth, Washington, and Waukesha. Call our knowledgeable garage door team today to set up your consultation!
---