What to Consider When Buying a New Garage Door
Once you have decided to replace your garage door there are still several things to consider. Some major factors being how much maintenance & upkeep it may require and the "return on investment" (ROI), in case you decide to sell your home in the future. The ROI refers to what something is worth after the initial investment to make the improvement.
New garage door installation is a rather inexpensive way to make an impactful upgrade to your home. Garage doors are often the first thing people notice when looking at homes and can make a huge impact on curb appeal. Besides curb appeal, other things to consider when purchasing a garage door are: 
Speed: Your garage door should respond quickly once you hit the button to open or close it. It should only take up to a few seconds for your door to begin moving.
Noise: A garage door should open smoothly and create almost no noise. 
Safety: Your garage door acts as a barrier between your home and the outside world. A new garage door can increase the safety & security of your home, which helps to keep your family and belongings safe. Updated garage doors also come with more modern safety features, such as automatic reversal for when the door comes into contact with an unexpected object.
Bills: Your new garage door will help to keep heat and cool air (depending on the season) inside your home. This will help to ensure you keep your home more energy efficient and keep the cost of energy down.
Cost: Garage doors come in a wide variety of styles to fit all budgets. However, there are several factors to take into consideration when budgeting for a new garage door. These factors should all be taken into consideration throughout the garage door shopping experience. This way you will be sure to stay on budget and get the door you want.
Installation price: How much are you willing to pay? Oftentimes, this is a "you get what you paid for" situation; hiring a professional to do it right the first time can help prevent issues later on.
Size: How big does your door need to be? Most garage doors are standard sizes, but there are slight variations in the size as well as whether it is a 1 or 2 car garage. Also, if you have multiple doors of different sizes?
Material: Some popular materials to choose from include steel, vinyl, wood, and aluminum. What material(s) would you like your door made out of? 
Technology: Do you need a new garage opener and what types of remotes will you need? What other technology?
ROI: What kind of return on investment (ROI) would you like? Different styles and materials of doors will provide a different level of ROI. The time between installing a new door and selling your home will also affect the ROI from this home improvement.
Decorative accents: Would you like to add elements such as windows or lighting? How else would you like to make your garage door more aesthetically pleasing?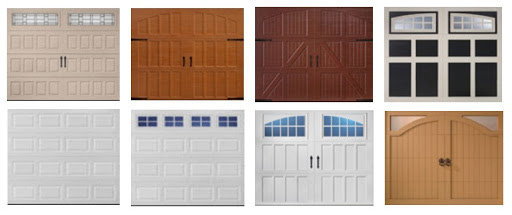 Type: Your budget may be a factor into the kind of garage door you end up getting, however there are still a variety of options to meet any budget.
Style: Garage doors come in a wide variety of styles. The three most popular being Traditional, Carriage House, and Modern.
Paneling: Flat panels, raised panels, and carriage house panels will all give your garage door a more updated feel. Garage door paneling comes in a wide variety of textures, colors, and sizes.
Color: Garage doors come in a vast array of colors, as well as textures. Some common colors include: white, gray, black, beige, and dark brown. If none of these colors work for you, you can also go with a coordinating color (a color in the the same color scheme as your home) or a contrasting color (a color in a varying shade, outside of your home's color scheme).
Lighting: Brighten your garage door for added protection and style.
Windows: The addition of windows allows for a bit of light into an otherwise dark space. You can choose from multiple types of glass and window shapes, including prairie, cathedral, wagon wheel, waterford, sunray, and many others.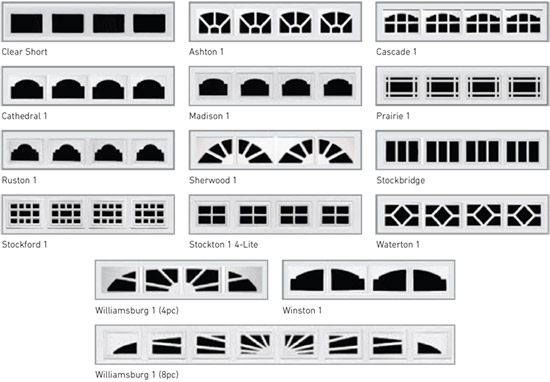 When purchasing a new garage door, it is important to visualize what you want the finalized version of your home to look like. We make it easy to visualize your garage door with our online Overhead Door DoorView. Contact us today for questions or to book an appointment!
---