Winterizing Your Garage Door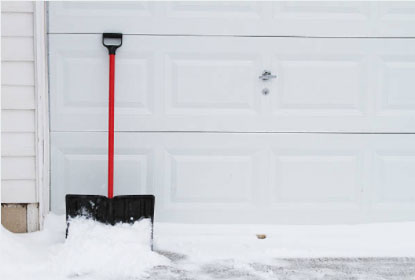 When you live in the Lake Country region of Wisconsin (Oconomowoc, Waukesha, Watertown, Jefferson, Lake Mills, or anywhere in between) you are well aware of just how brutal winter can be. From the below zero temperatures, to the driving winds, to the several feet of snow that can accumulate without warning. Then, to make matters worse, your garage door stops working properly. One thing you can do to help keep your garage door operating properly during the coldest time of year is to winterize it.
Below are steps to winterizing your garage door, as well as some maintenance tips (should you need them).
Inspect your garage door, as well as the tracks: To start, you will want to simply watch your garage door move up and down a few times. While doing this be sure to listen for any unusual sounds. Watch the door for any disturbances in movement, or anyplace the door seems to catch. Be sure to document any peculiarities you notice, so you can further investigate and determine whether you need a professional to inspect your door.
Lubricate moving parts: This task may sound simple, and it is. Spray the lubricant to your garage door's moving parts, including springs, bearings, and hinges. Be sure to thoroughly apply to keep your door moving with ease, and to protect all parts.
Check that your door is sealing properly: There are easy ways to check that your garage door is sealing properly. The easiest way to check is to close your garage door and see if you notice any cracks of light anywhere. Be sure to do this at night, as this will be the opportune time to see any light where it shouldn't be. If there is enough room for light to go through, there is enough room for heat to escape. Also, be sure to check around the door for any dirt or debris build up. This can also cause your garage door to not seal properly.
A good tip for before the snow flies: Gather all your winter tools and put them somewhere easily accessible. This may come in handy as you may not be able to access your garage easily due to extreme snowfall.
Additional maintenance tips for your garage door:
Be sure to test your door's balance or have it tested
Clean and inspect your garage door regularly
Clean and inspect your sensors for debris or damage regularly
If you begin to notice any unusual movement or sound, or just want an inspection before the cold weather descends upon the beautiful Lake Country, call our team at Overhead Door Company of Metro Milwaukee™.
---